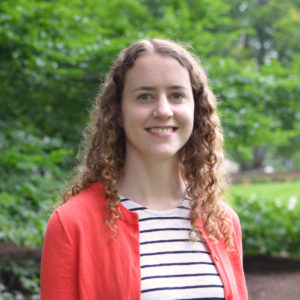 Anna Hochgraf, M.S.
National Research Service Award Predoctoral Fellow (2020-2022)
Prevention and Methodology Predoctoral Fellow (2018-2020)
Human Development and Family Studies
The Pennsylvania State University
Bio
Anna is a doctoral candidate in Human Development and Family Studies at the Pennsylvania State University. Anna's research centers on the development and consequences of adjustment problems, particularly body image concerns, in adolescence and young adulthood. One aim of her research is to identify risk and protective factors for the development of body image concerns, including how individual characteristics and contextual factors, particularly family processes, interact to shape risk. The second aim focuses on the consequences of body image concerns and related adjustment problems for individual and family well-being. In all of her work, Anna aims to apply rigorous and innovative methods, such as time-varying effect modeling and intensive longitudinal methods, to gain insights into youth development, adjustment, and family relationships. More broadly, her work is directed at informing prevention programs for body image concerns and related adjustment problems.
For her dissertation, Anna is conducting a daily diary study of young adults to identify potential comorbidities between body image concerns and substance use and to illuminate opportunities for real-time intervention. Her dissertation work is funded by a Ruth L. Kirschstein National Research Service Award (F31) from the National Institute on Drug Abuse.
Anna received a M.S. in Human Development and Family Studies from the Pennsylvania State University in 2017, and a B.A. in Psychology and Public Health from the College of William and Mary in 2014. Her academic advisor is Susan McHale.